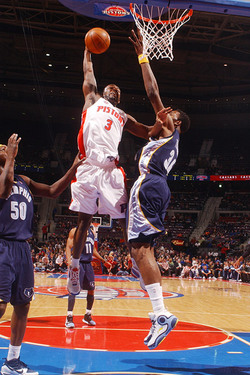 We've said it before, this few weeks around when training camps open is the time to be optimistic, to believe. You're team can make the playoffs. You're team will live up to potential. This is the year.
The Detroit Pistons are the best team in the league on paper.
Okay, that last one is over the top. But it is also exactly what Rodney Stuckey said in a Q&A with Dime Magazine.
We all just have to stay healthy and the sky is the limit for us. On paper, we are the best team in the League. We are deep and athletic. All we have to do is play to our abilities. We don't have the biggest roster, but if we share the ball, we'll be alright.
What kind of paper are we talking about, exactly? Rolling?
I'll admit, I'm more down on the Pistons than most this season. I don't like teams undergoing an ownership change. I have concerns about a roster that was clearly decimated by injuries bouncing back as well as people think. I think Tracy McGrady could be a mistake. I'm in the group that says they still need to start rebuilding now, not trying to win with this group when clearly outmatched.
Go ahead and disagree, but you're all with me on this — the Pistons are not the best team in the league on paper, they are not getting out of the East, right? Good, we're all in agreement.
Except Stuckey. Who also said in the interview:
I was focusing on getting in better shape. I wanted to slim down, which I've done. I've also been working on my jump shot. I wanted to get those two things down. I will be alright with everything else. That's pretty much it.

[On why the Pistons struggled so much last season] Everyone was injured, so there was no set lineup. The amount of minutes we played changed every night (due to injuries). It was never like that before. We had to find out right before games who was healthy and who was going to play and for how long.
That last part is true. The Pistons can and should be better. But the best team on paper is out of the question.