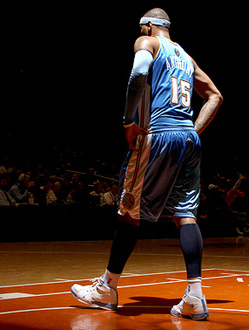 After a day of wild speculation — from the Clippers to the Sixers — it appears the frontrunner to trade for Carmelo Anthony is the most logical option.
The New Jersey Nets are in the drivers seat, according to Chad Ford at ESPN.
Several league sources on Monday told ESPN.com that they believe the Nets have emerged as the front-runner to secure Anthony. Not only is Anthony willing to sign a contract extension with the Nets, sources say the club is willing to make an intriguing offer of Derrick Favors (the No. 3 pick in this year's draft), the expiring contracts of Troy Murphy and Kris Humphries and at least one future first-round pick to Denver to land Anthony.

A source close to the Nets told ESPN.com that he wasn't ready to concede that the Nets were the front-runners for Anthony's services, nor were they willing to confirm what the Nets would offer. However, the source did acknowledge that New Jersey was in serious consideration based on the Nuggets' reluctance to trade Anthony to a Western Conference team and the Nets' combination of expiring contracts, draft picks and a young player with serious upside.
A lot of things have to come together for a three-team deal to work. One is the two teams agreeing to the terms of a trade, which is challenging enough as Denver is looking for young talent and to save money in the future. The other is that 'Melo needs to agree to the deal — any sane team would want him to sign an extension before giving up players to get him. So Melo has leverage. He wants to go to a big market, big name place. Which the Nets are becoming and really will be in Brooklyn in a couple years.
By the way, Golden State may not be sane — the Contra Costa news reports that the Warriors would trade for Anthony whether he signs an extension or not. Plus, everyone not named Curry is available to the Nuggets. Frankly, that is probably still not a better offer for Denver than what New Jersey put out, but it makes me question the sanity in Golden State. Did the new owners really sign off on that?
Also, Houston is reported in the mix by the Houston Chronicle. The question is what can they really offer, maybe the trade exception from the Trevor Ariza deal plus Kevin Martin. But is that the picks and prospects Denver really wants?
The Nets have always made a lot of sense. Denver is not going to get a better offer than Favors and Murphy (Lawson and Favors are nice rebuilding blocks). It all seems logical.
So Isiah Thomas says it will be the Bulls or Knicks. Bless him.