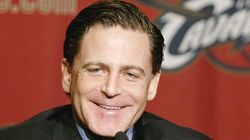 When LeBron James announced his decision, Dan Gilbert lashed out.
It was an emotional response, a public letter that called James decision a "cowardly betrayal" and insulted James. It earned Gilbert a $100,000 fine and a rebuke from David Stern.
Gilbert now says he has moved on. So the Detroit Free Press asked him if he had any regrets.
"No, not really," Gilbert said. "I just expressed what the Cleveland people were feeling. Unless you're from Cleveland and experienced what they have experienced since 1964, it's hard for the rest of the country to grasp."
This echoes what we've said about the letter from the start — it played well with the Cavaliers core fans. Clevelanders loved it, and the good will generated was well worth the fines. Gilbert spoke for a fan base.
So now it's on from the big words to see if Gilbert can help rebuild his team. No angry letters can do that.