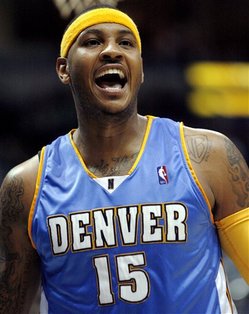 Oh, what an intricate web the Carmelo Anthony trade rumors have woven. Melo has been linked to a dozen NBA teams, several book clubs, and at least one amateur magicians' alliance since his desire to be traded became public, but the Nuggets' willingness to play along with Anthony's whimsy has been anything but concrete.
Obviously Denver would prefer to hang on to their best player, but if Masai Ujiri and the rest of the Nuggets' brass consider Melo's departure to be an inevitability rather than a mere possibility, it makes sense that they would at least take stock of their star's value on the open market.
A report from ESPN.com's Marc Stein and Chad Ford suggests that Ujiri is doing just that, and that the Nuggets are bracing for impact rather than taking evasive action:
The Nuggets still aren't aggressively shopping Anthony and haven't withdrawn their longstanding offer of a contract extension, but numerous sources told ESPN.com that Denver officials have in recent days let other teams know for the first time that they will listen to pitches after previously resisting such discussions. "I'm not sure how soon, but I do think they're going to trade him [between now and February]," said one rival GM.

Said another source briefed on Denver's plans: "There's no doubt they are working on it. Eventually they're going to pull the trigger. "

…Although Anthony has not made any such declarations publicly, it appears that Nuggets management is growing increasingly resigned to the fact that they won't be able to change their franchise player's mind.
Stein and Ford also suggest that Ujiri's recent hiring to the Nuggets front office hasn't had much of an impact on the team's ability to sway Anthony, or even to arrange a sit-down meeting between the two parties. That's not a pleasant sign for the home team, particularly since getting Anthony to agree to their proposed extension is likely the only way for Denver to get out of this in one piece. Otherwise, the Nuggets are likely looking at some kind of lesser returns in exchange for Carmelo, and their trade options are seriously limited by Anthony's own preferences.
As has been explained previously: Melo may not have a no-trade clause, but he does have some power here. He wants the Nuggets to trade him, and now, it looks like they may just fulfill that wish. However, with just one year left on his deal, most suitors aren't going to swing away without a general agreement for Anthony to commit over the long-term.
The Nuggets may have opened up the phones, but they're not just going to hand out Carmelo to caller #10. They still have to filter through which teams Anthony accepts, which teams are financial fits, which teams provide a market conducive to growing La La Vazquez's career, which teams are actually willing to invest in Anthony prior to the new CBA, and oh, which teams actually have the pieces to make a deal worthwhile for Denver. The Nuggets' softer stance may remove one obstacle, but there are still all kinds of complications in the way of consummating a deal for Carmelo Anthony.