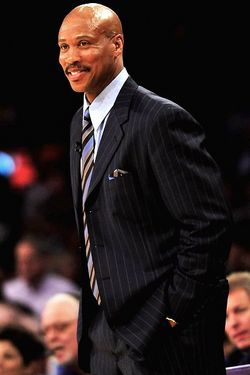 Last season: 61-21, best record in the NBA, but an early exit in the second round of the playoffs after they ran into a deeper and more defensive-minded Boston team. Unless you're from Cleveland, in which case LeBron quit. Obviously.
Head Coach: Byron Scott takes over the helm of a rebuilding project, looking to bring an up-tempo offense that really would have been handy with last year's roster.
Key Departures: LeBron James and… does the rest of it matter? Does anyone care Shaq left? Big Z will be missed on an emotional level, but not on the court.
Key Additions: Ramon Sessions, a $14.5 million trade exception. Not much to write home about.
Best case scenario: Prove that this team was more than just LeBron by being respectable. (There are Clevelanders who have dreams of the playoffs, ignoring the realities of the new East or the needs of this team to rebuild.)
For that to happen: Scott's system is going to have to get the Cavs role players to be just as efficient while having to take on more of the offense (and getting a lot more attention from defenses). The players on the Cavaliers roster may struggle to create their own shots. That makes the running offense a good option to get some easy buckets
The three-headed guard situation of Mo Williams, Sessions and Daniel Gibson will have to come together. Williams does not fear shooting but now he will be one of the few guys on this team capable of creating his own offense whenever he wants. He is going to have to both shoot and set up guys efficiently. Sessions is going to need to be the pure point guard, and when Gibson is in he is going to have to keep knocking down more than 40 percent of his threes.
JJ Hickson will start at the four and needs to emerge — he shot 80.9 percent in transition last season, so you know he has to like the new system. Hickson is just a better shooter on the move and when he can crash the offensive glass, and that's what should happen now. Last season during he playoffs LeBron and every sane person at home was wondering why he was not getting more run — now he needs to prove he deserves it.
Antawn Jamison will be 34 by the end of the season but he will likely be the team's leading scorer, and over the seasons his scoring efficiency has not dropped. However, he shot a little less last year and now he has to step back into the primary role, which will be hard.
The key to this team running — and playing good enough defense to run — may be Anderson Varejao being the energy and spark plug guy night after night. He has to defend the rim. He played that role before, but it is more crucial now.
More likely the Cavaliers will: Struggle as these guys find it hard to be as efficient in their new roles.
If you want to run, that starts on defense. You need the stops and turnovers to really make it work. Scott knows this as coach, but does he have the players to execute it? Last season the Cavaliers were seventh in the leuage in defense, and they had a premier perimeter defender in LeBron and bigger guys guarding the rim.
Jamison will have good nights ad some flubs. Same with Williams. This is a Cavaliers team that could struggle now on the boards — we shall see — but they will need to work hard there on both
Prediction: 32 wins. The Cavaliers will not be last year's Nets.
But now is not the time to prove that you actually had a good team around LeBron, now is time to rip this thing to the core and start a rebuilding process. There are good young pieces like Hickson to start with. There is a massive trade exemption which likely will not land the Cavaliers a star but more likely will e broken up to take on some ugly mid-sized contracts that will expire. For that the Cavs will want draft picks and young players. Start from the ground up again. Rebuild. This year the wins don't matter.