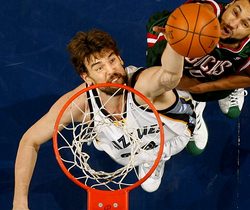 Memphis shocked a lot of people with a 40-win season last go around. The team that was supposed to be so selfish with the ball turned out to have great chemistry and look like a young team on the rise.
The problem with the West is that 40 wins leaves you 10 games out of the playoffs — it took 50 to get the eight seed last season and it likely will be close to that number again.
Grizzles owner Michael Heisley has guaranteed his team is making the playoffs this year. He's not the kind of owner to just go off and talk out of his a$% without knowing what he is talking about… well, yes he is. He is exactly that owner. And it would be hard for the Grizzlies to pull off.
But in this case, the team is with him, as Marc Gasol told the Memphis Commercial Appeal.
"We're all on the same page," Gasol said in a recent telephone conversation from Spain. "I can't wait to get back to start working toward that goal. We're going to definitely try to (make the playoffs). I think we can because we believe in each other."

"My contract status doesn't make a difference [he is in the last year of his deal]," Gasol said last week, speaking from Barcelona, where the NBA's Basketball Without Borders program visited for the first time. "I can assure you that all I'm going to try to do is make my teammates better and win."
Believing in each other is great, but is it add 10 wins great? No. Memphis is both going to need to exceed expectations and have the league come back to them a little if Heisley's guarantee is going to happen.