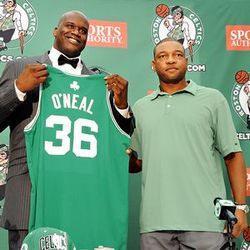 Did anybody really buy the whole "Shaq v. Kobe" feud was marketing. Oh, Shaquille O'Neal is smart enough to know how to make these things marketable, but like ancient myths the elaborate stories built up around some kernel of truth.
Then when Kobe got ring number five last June and was quick to say he was "one ahead of Shaq" you could feel how much he enjoyed that.
That comment also sparked the Celtics, according to the Boston Globe (as found by Trey Kerby at Ball Don't Lie)
"The minute I heard Kobe [Bryant] say he had one more ring than Shaq, I said to Danny [Ainge], 'Let's go get Shaq,' and it happened," said [Celtics primary owner Wyc] Grousbeck. 

"This is a very, very proud bunch of guys, the champions from '08. And now with Jermaine and Shaq and Delonte, who haven't been champions with us, this could be a good group. We've got huge challenges but we reloaded this summer. We really want banner No. 18."
How much the aging Shaq and his defensive freelancing really helps the Celtics remains to be seen. He (and Jermaine O'Neal) provides some dept and offense along the front line, if everyone can stay healthy and not regress too much.