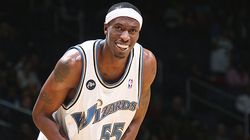 Josh Howard will at some point come off the bench and round out a pretty good guard rotation in Washington with John Wall, Gilbert Arenas and Kirk Hinrich. Plus, with Al Thornton the only legit three on the roster, Howard as the swingman seemed a perfect fit. So the Wizards gambled on him bouncing back from his knee injury and signed him to a one-year deal this summer.
Now, it appears we will be at least a month into the season before Howard joins that trio.
NBA.com's David Aldridge has a great breakdown on where things stand with some of the key offseason NBA injuries (Kobe, Bogut, Yao, Bynum, Perkins, etc.) and there were not a lot of surprises, save how long Howard will be out recovering from the knee injury he got three games into last season.
While Howard does not have any swelling in the knee and his strength is good, and he can walk on an anti-gravity treadmill, he still can't run or do any full-speed basketball drills, and certainly has not been cleared yet for contact or any basketball activities. Right now the Wizards are saying December looks possible, but a return from an ACL injury usually takes a year at least. Whenever Howard comes back, it's likely there will still be minutes available at small forward, where Al Thornton is Washington's only proven player entering camp.

"I think people forget what a good player Josh was," GM Ernie Grunfeld said Sunday. "He played very well for us those four games. Unfortunately he got hurt. But we felt he would be a good fit for us. We knew he wouldn't be ready for the beginning of the season but we're in rebuilding mode. We have a young team and we need somebody from a winning environment who plays hard every night."