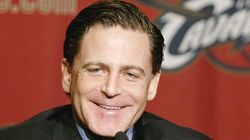 Cavaliers owner Dan Gilbert is not involved in the sale of the Detroit Pistons, but he still has an opinion about it. In that way, he's just like the rest of us.
Gilbert — a Michigan State grad — told the Detroit Free Press he would like to see Mike Illitch buy the team. Illitch already owns the Tigers and Red Wings in Detroit and has plans for a new downtown stadium the Pistons would play at.
"I'd like to see the Ilitches buy the Pistons, you know, and put that new stadium in Detroit," Gilbert told Free Press columnist Tom Walsh in an interview this past week at Quicken Loans' new downtown headquarters. "Like most people, I'd like to see a Detroit organization own and operate the Pistons."
Gilbert also says he hasn't heard much of anything about the sale.
Team owner Karen Davidson is selling the Palace Entertainment Group, which owns not only the Pistons but also the Palace at Auburn Hills and DTE Energy Music Theatre and the Meadowbrook Music Festival. The goal was to have all that sold before the season starts and a sale may be announced by then, but it will likely be later before any formal transfer of ownership can take place.
There are four groups in the running, with billionaire and Michigan native Tom Gores being the frontrunner.
Also in are Illitch; George Postolos, former Rockets team president who almost ended up buying the Bobcats; and a group of investors based in Dubai.