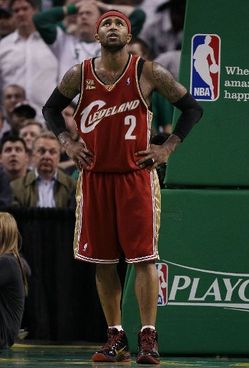 How depressed was Mo Williams after LeBron James decided he was taking his talents to South Beach? After watching his coach and GM leave and realize the Cavaliers were starting over.
How about walking away from $26 million depressed. In a refreshingly honest interview by Marc Spears of Yahoo, Mo Williams said he almost walked away from all that money left on his contract. He almost quit.
"That's how bad it got," Williams said. "I contemplated it. I really sat down and envisioned life after basketball. …I really saw myself not playing.

"It just didn't make sense to me. …It doesn't make sense to me."
Williams vented that the night of the decision, tweeting about denial, bargaining and seeming to move through the stages of grief. He was expressing what the Cavaliers fans throughout Ohio.
In a matter of moments the Cavaliers went from a title contender to a team that will struggle to make the playoffs. It's a huge drop, and an emotionally devastating one for real competitors. The entire
"This summer was very, very stressful for me," Williams said. "I really lost a lot of love for the game this summer.

"You play this game for one reason. You play to win games and win championships. I couldn't understand why a lot of things were happening to our organization, to a really good basketball team. I couldn't really understand it. And when you don't understand things, it can really stress you out."
The business of basketball can suck the fun out of it.
Williams has a lot on his shoulders. Now he will have to take on a big role, the point guard who is one of only a handful of players on this team who can create his own shot. He is a leader.
He will work hard, he will have big nights. But he knows it will not be the same.