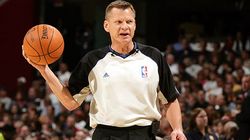 Steve Javie is like a lot of NBA veteran players this time of year — he is excited, but wonders if his body will let him enjoy that excitement.
We're used to stories of NBA players going under the knife, trying experimental procedures, enduring a lot of pain for a couple more years on the court. Just a little more run.
Javie has been doing the same thing. An interesting story from Brooklyn's best NBA writer Howard Beck at the New York Times details what Javie has been going through.
Even Javie is unsure how long his comeback will last. He has no cartilage left in his knee, a result of 30 years of wear and tear. When he runs, "it's bone on bone," he said. Javie could have reconstructive surgery, but it would require a year of recovery, and the prosthetics are not designed for the abuse of an N.B.A. schedule.

So Javie has been working hard to strengthen his quadriceps and hamstrings to take some pressure off the knee. He has undergone platelet-rich plasma therapy, which some doctors believe could help regenerate cartilage. Javie also recently began receiving viscous injections that simulate cartilage and provide some buffer between the bones. He hopes the injections "can buy me another year or two."
Javie will find out in the preseason if he can do it. He has been running some with no swelling or pain lately, but nothing like the strain an NBA season will put on that knee. Like a lot of veteran players, he is unsure.
There are fans of the Blazers — heck, fans of 30 teams — probably rooting against Javie. Every team's fanbase is convinced Javie has it in for them. But the story of a guy gutting out for one or two more seasons — and in this case not millions of dollars — says something about his love of the game.