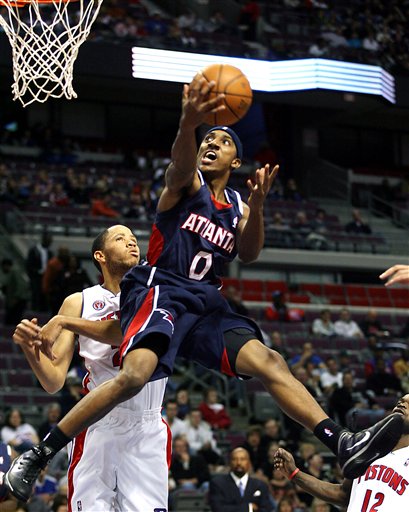 Joe Johnson just received one of the biggest contracts in the NBA. (Quick side note, here's a list of all the people who think that deal was fair and equitable: Joe Johnson, the Hawks organization, Joe Johnson's mom. That's it.) And he received that contract for shooting a whole lot (and not that efficiently). But he's taking his role as a leader on the Hawks seriously.
The Atlanta-Journal Constitution spoke with Jeff Teague, who said that Johnson has talked to him about being more aggressive. Teague says Johnson told him:
"'Play your game. Don't just defer to me a lot.' " Teague said J.J. told
him the other day on the court. "When he said that, that helped me a
lot. I'm going to be a lot more aggressive."
Johnson confirmed that to the AJC, saying he told Teague he has to be more aggressive, as well as a leader for the Hawks. The second charge will likely be quite a bit more difficult as Teague is still a second year player trying to take the starting job at point from Mike Bibby who's been entrenched as a starter in his career for a decade. But the winds of change are coming, and Teague showed a lot in Las Vegas for summer league to suggest he's ready to make that jump.
With Johnson in his corner, he could make the jump, and that might help the Hawks stay near the top of the Eastern Conference, which everyone forgets they landed the third seed in last season.