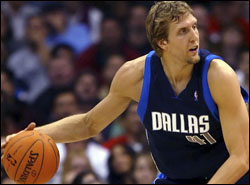 LeBron James had questions about Cleveland, its ownership and the grand plan. He didn't have those questions (or far fewer ones) about Miami.
Dirk Nowitzki was a free agent this summer too, although nobody expected him to move. He told Mavs Moneyball it was owner Mark Cuban's commitment to winning that made sure he did not leave.
"I would say the key point is that our owner Marc Cuban immediately came to me and said: 'Hey, Dirk, we both sit in the same boat. " The same boat, that was it. He wants to be champion, I want to be champion, he dreams of it, I dream of it. If I would've left, I would have thought, I give up, I did not make it. It would have seemed to me like running away."
But he may have been more tempted than people thought.
"Granted, there was a moment, if the Miami Heat would've had reported exactly at that time [as Cuban], 'they want to build a super team with me, Dwyane Wade and LeBron James', it would have been very tempting and almost a guarantee for the title. When they got Chris Bosh it was clear, the best options do I have and keep in Dallas, because all the other clubs are not further than us in the fight to the ring for the NBA Champ. Not Chicago, not New York, and neither the New Jersey Nets can guarantee me a better result and not to drop off again in April to end the season prematurely."
With Dirk in the fold, the Mavericks remain very good. On that second tier in the West, hoping the Lakers come back to them a little.
LeBron James in another jersey is not that jarring (unless you live in Cleveland). Nowitzki in another jersey… can't picture it.