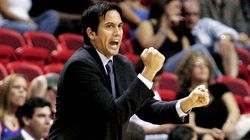 Don't assume Erik Spoelstra knows how all this is going to fit together.
He's spent all summer thinking about what the Miami Heat will look like next season — and as head coach he has some say in the matter — but he told Ira Winderman of the Sun Sentinel he wants to let the action on the court tell him what to do.
That starts with the starting lineup.
"I don't have those positions inked right now," he said. "I have a pretty good idea of three of my starters. And from there, a lot of it will depend on chemistry, dynamic and how the team comes together…"

"One of the things going into camp is it's not going to be conventional all of the time," he said. "And when I've talked to the players this year, I don't want to box the players into a quote, unquote position. We have players here that can play multiple positions, that are versatile."
This goes back to the idea of LeBron and Wade playing some point, for example. Or Bosh at the five and LeBron at the four in a speed lineup. He's got a 400-page playbook of ideas. Literally. Spoelstra has options, and he's spent the summer thinking about them.
He's got options on defense, too.
He again plans to work a zone into his defensive approach and even met this summer with Syracuse coach Jim Boeheim, a leading proponent of the alignment. "He talked about how zones work that much better when you have more talented players, with more IQ, more of a feel for the game, more ability to cover ground, that it's even more dangerous then," Spoelstra said.
How the Heat come together is going to be an interesting basketball experiment.