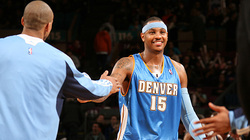 Yesterday we told you about rumors of a complex, still-in-discussions trade involving the Nets, Sixers and Nuggets in an effort to grant Carmelo Anthony a one-way ticket out of Denver.
Except the Sixers say they are not playing that game.
The original report came from the Ken Berger at CBSSports, but the Philadelphia Inquirer asked Sixers sources and they said there's nothing there.
According to one Sixers front-office source, the team is "not in any discussions at all" regarding a potential three-way trade involving the Denver Nuggets and New Jersey Nets. In a scenario reported Wednesday by Ken Berger of cbssports.com, the Sixers would consider trading the expiring contracts of Jason Kapono and Willie Green along with the talent of Thaddeus Young and Iguodala to the Nuggets for superstar Carmelo Anthony.

The same source said that while the trade has been discussed internally "a little," the franchise believes it has no real shot at Anthony, who has said he would agree to be traded to the Nets, Knicks, Magic, or Bulls.
It looks like we're still at square one with the Carmelo Anthony deal — he has leverage in this because no team is going to trade for him if he won't sign an extension with them. Three parties — the two teams and Anthony — are all going to have to agree on any trade, and that takes time to put together. More like February trading deadline than before the season starts. Besides, the Nuggets need to really sell to fans that they tried to keep him.