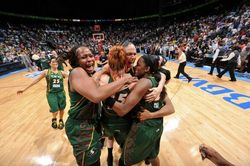 You have your perfect Storm.
The Seattle Storm had the best regular season record in the WNBA. They swept through the playoffs undefeated. They have been the best team in the league.
It is fitting that after an 87-84 win in Atlanta Thursday night they swept in again to be WNBA champions. Atlanta led much of the game but a 16-1 run right at the end of the third quarter and carrying over to the fourth gave Seattle a lead it would never relinquish.
This is the second title for the Storm, which also won in 2004.
Swin Cash had 18 points for the Storm and Sue Bird chipped in 14 and seven assists. Atlanta's Angel McCoughtry remains the best single player in the post season, racking up 35 points in this loss. Seattle's Lauren Jackson — who had 15 points in Game 3 after scoring 26 in each of the first two — was named tournament MVP.
I the crowd at the game in Atlanta were a number of Hawks players — Joe Johnson, Al Horford, Marvin Williams, Jeff Teague and Jordan Crawford. At least the Dream made it to the WNBA finals.