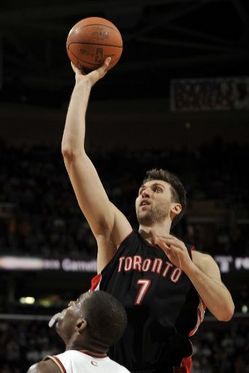 Last season: 40-42, and a late-season meltdown kept them out of the playoffs. (If you need to add that to your Chris Bosh hate fuel in Toronto, so be it.)
Head Coach: Jay Triano, and despite the loss in talent you can be sure his seat is getting a little warm. (So is GM Bryan Colangelo's seat, this is the last season of his deal and he is feeling the pressure to win now, which is not great for rebuilding.)
Key Departures: I don't know if you heard, but Chris Bosh left to head to Miami. That might have made the news. But other guys lost include Hedo Turkoglu (Raptors fans were not crying over that one), Marco Belinelli, Antoine Wright, Rasho Nesterovic,
Key Additions: Linas Kleiza, Leandro Barbosa, Julian Wright and Ed Davis.
Best case scenario: Toronto doesn't embarrass itself, that it puts out a respectable team with some pieces to build on.
For that to happen: The Raptors need what we all have been waiting for — the real Andrea Bargnani. The blossoming of potential and hype into a player who lead a team in scoring, who can be an All-Star level player. We're not sure that this version of Bargnani actually exists, it's more of a Yeti — something of legend people only catch glimpses of out of the corner of their eye.
This season the excuses are gone — Chris Bosh and Sam Mitchell are gone. Bargnani has to step up now. Late last season when Bosh was out and defenses turned their attention to Bargnani he wilted. This is his time, for the Raptors sake that can't happen again.
Linas Kleiza and Leandro Barbosa will need to prove they were more than just the role players they were given a chance to be before. Kleiza looked it during the World Championships, but proving it on an NBA level will be harder.
Also, the youth need to step forward and prove they can ball. DeMar DeRozan looked great during Summer League, and Sonny Weems shows potential as well. Jarret Jack to be steady.
Also, the Raptors need to play some semblance of defense.
More likely the Raptors will: Have nights of utter embarrassment and other nights where they look like they have something. They are going to get crushed in the paint and on the boards this season, and it's hard to consistently win in this league when that is the case.
This season is about starting the rebuilding process, seeing what you've got and what works. Start reshaping the roster as you look for the next star you need. See if Bargnani really is a guy you can trust or not, them move accordingly. See if Kleiza can be a steady scorer, if DeRozan can take the next step or three. Jettison the pieces that don't work and try new ones.
Hopefully Toronto will use all that youth and speed to get out and run. To get some easy buckets in transition. Their defense will keep them from being good, but they can be entertaining at least.
Prediction: 23 wins. It's going to be ugly for a couple years, just try to keep focused on the big picture. Then hope that starts to come together.