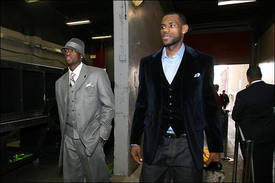 Dwyane Wade and LeBron James may be the two best players at getting to the rim in the NBA.
It's a scary prospect to think of that on the same team — but would the fact they like to do the same thing force one to alter his game some? Does one become a guy who lives more on the perimeter?
In a fantastic post by Neil Paine at the Basketball-Reference.com blog, they went back through history and looked at what happened when two guys who drove the lane a lot joined forces.
The result — usually one guy backs off. Gail Goodrich backed off for Jerry West. Michael Redd backed off for Richard Jefferson. Stephon Marbury gave room to Steve Francis. And so on and so on, it's not universal but it's the norm.
And it poses and interesting question for the Heat.
It seems as though LeBron and D-Wade have a decision to make this season — either they both cut back on their forays into the paint, or one of the two has to play with reduced aggression while the other maintains his attacking style. Either way, from these historical examples it's clear that someone will have to alter their style of play for the good of the team. The question is, which option will they choose, and how will that impact the team's offensive efficiency?
Last two seasons LeBron shot 40 percent from 16 feet out to the arc, and in those seasons shot 34.4 and 33.3 percent from three. (Stats via Hoopdata.com)
Last season Wade shot 36 percent from 16 feet to the arc, two seasons ago that was 42 percent. From three he shot 29.9 percent last season and 31.7 percent from there two seasons ago.
In theory, James is the better outside shooter, so you'd like him to be the guy backs off a little and shoots the outside shot more. Except the last thing you want is a less aggressive James — he can get to the rim as well as anyone who ever played the game, you don't tell him to stop that.
And frankly, you don't want those two guys taking spot up shots away from Mike Miller, Eddie House and all the guys who are better at that role than James or Wade.
It is possible that both men back off a little. Everyone sacrifices, just like Pat Riley has been preaching. If you read the blog post, Grant Hill and Jerry Stackhouse did that when they met (although that situation was rife with other problems). But more likely, one guy changes.
Something to watch once we get to the season.