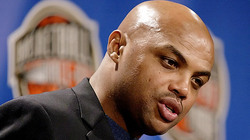 So is the NCAA going to go back and make Auburn forfeit wins from 1982?
In a revelation that should be shocking to almost nobody, Charles Barkley admitted he took some money while in college during a conversation about Reggie Bush on the Dan Patrick radio show (as transcribed on Beyond The Arc).
If a guy wants to borrow money from an agent because he's poor, what is wrong with that?" Barkley told Patrick. "Nobody can tell me what is wrong with that. I got money from agents when I was in college and I went in the 80s. Most of the players I know borrowed money from agents. The colleges don't give us anything. If they give us a pair of sneakers, they get in trouble. Why can't an agent lend me some money and I'll pay him back when I graduate?"
It's rather a simple view to a much more complex problem. But does the fact that a top athlete took money during college nearly three decades ago really surprise anyone? Does it change anything or anyone's perception of Barkley or Auburn? Not even close.
Barkley is on the same page with us about a couple things. One is that the NCAA's selective enforcement and archaic view of college athletics is pathetic.
The other is something else he told Patrick — if Bush had just paid the agents back as they privately requested nobody would be talking about this. Bush decided to fight them over a few hundred thousand, and it was leaks from that agent after he couldn't get paid that led to the media and NCAA investigations. That eventually led to the punishments to USC, as well as Bush and his issues with the Heisman. This will hit Bush in the pocketbook regarding endorsements, and to much larger sums than he would have paid to the agent.
Bush could have been smart about this, instead here we are.