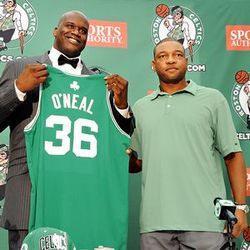 The charges were salacious — that Shaquille O'Neal hack a former employee's computer, planted child porn and was generally a big bully.
Shaq says they are also crap.
Well, not Shaq directly, but his people. They released a lengthy statement yesterday, which was summarized in the Boston Herald.
O'Neal called Darling "an ex-con" with a lengthy record. He portrayed the suit as a brazen cash-grab by a man who previously tried to extort him for $12 million by threatening to expose O'Neal's personal communications and e-mails.

"Mr. O'Neal has made it crystal clear that he will never respond to these outrageous tactics," Shaq's representatives said in a statement. "As a result, Darling filed a lawsuit which seeks only to embarrass, harass and extract money from Mr. O'Neal."

O'Neal's attorney Benjamine Reid called the claims in the suit a "complete and utter fabrication."
We have no idea what the truth is here. That's why a judge gets paid the big bucks. Well, that or a jury gets paid nothing to hear this crap. Either way, it's not our job today.