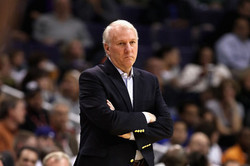 The Spurs won 50 games last season, something you barely noticed because it's expected of them, and they should be better this season. Tony Parker should be healthy, George Hill's game should take another stride forward, Tiago Splitter will be a boost.
Yet you do not hear "San Antonio Spurs, Western Conference contenders." In part because it's hard to put any name but "Los Angeles Lakers" in that sentence, but in part because people are looking past the Spurs.
In a conversation with reporters today, Spurs coach Gregg Popovich says the Spurs should be in that conversation. Here are some tweets from Jeff McDonald, San Antonio News Express Spurs reporter.
More Pop on offseason: "We think they have the potential to be fantastic – and fantastic means have an opportunity to win a championship."

Pop worked out RJ individually this summer: "His dedication and development are going to be one of the most important things for our success

Pop on Tim Duncan's shape: "I think he's even slimmer than he was last year. He's serious about this."

Pop on Splitter: "He's a really, solid player who's going to have a great NBA career, but he's not going to lead us in scoring."
I am high on Tiago Splitter, but with this roster he should not be leading them in scoring, or anywhere close. Around 7 points a game, 8 or more rebounds, solid defense and just some smart play and he'll be an upgrade for them as a guy they can stick along side Tim Duncan on the front line.
And Popovich is right, Richard Jefferson will be a key. But winning a championship… well he kind of have to say that right now, doesn't he? Doesn't mean we have to believe it either. But they will be good, and overlooked.