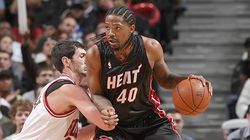 For all the times the "it's not my joint, I'm holding it for a friend" excuse has been used, it had to be true once.
Marijuana charges against the Heat's Udonis Haslem have been dropped, as reported by Ira Winderman at the South Florida Sun Sentinel. The Miami Dade County prosecutors dropped the charges because they could not prove possession.
Haslem was pulled over last month in the Miami area for illegal window tint, but the officer smelled marijuana when he approached the vehicle. After searching the car, Haslem and his passenger were charged with possession of marijuana, along with the window-tint charge and speeding.
At the time Haslem's attorney Eric Schwartzreich said the charges would not stick, that there was no way to prove possession.
A passenger in the vehicle, Antwain Fleming, who acknowledged in the police report that luggage containing the marijuana was his, was charged with misdemeanor possession of less than 20 grams of marijuana.

"They sent the container out for his prints, to see if Haslem's prints were on the container, they're not," Schwartzreich said Thursday, when the print analysis was completed. "They've got another guy claiming all the marijuana is mine in the beginning and Udonis' prints are not on the container."
And there you have it.