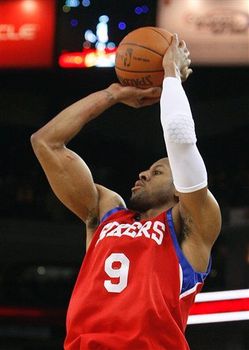 Last season, Andre Iguodala took as many three-point shots a game (3.7 on average) as he did shots at the rim (3.9). The Princeton offense had him floating around on the perimeter and creating a lot of his own shots.
Anyone who watched Team USA this summer knows that when he attacks the rim, Iggy is a beast. Frankly, anybody that has watched him play ever knows that. My mom knows that. But just for some further evidence, last season Iguodala shot 30.9 percent from three and 68.5 percent at the rim.
So new Sixers coach Doug Collins had this novel idea. Iguodala explained it to the Philadelphia Inquirer's online blog.
"I think Coach [Collins] is going to be able to do the job of putting me in a position to attack more, where I won't have to exert energy on the perimeter," Iguodala said. "Last year our offense had me outside the perimeter. I shot a lot of threes, but it wasn't my intention to do that. I'm going to attack the rim more this season."
That's so crazy it just might work.
The goal is to get Iguodala moving toward the rim. Last season on isolation plays Iggy shot 35 percent and created 0.78 points per possession. But when he was cutting to the rim it was 83 percent and 1.41 per possession. In transition it was 69 percent, off offensive rebounds it was 63 percent.
The Sixers have Jrue Holiday and Evan Turner to create shots. They have a team of athletes that can run. They have Thaddeus Young. The Sixers should be more dynamic than they are.
Collins gets that, you can bet the offense will try to take advantage of these athletes. Which is a good thing, because it's far more fun to watch Iguodala go to the rack than float around the arc.