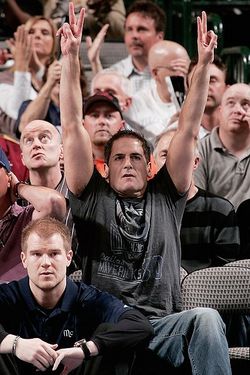 Things are going to be different this year for the Mavericks. No more of that "good but not quite good enough" stuff. Time to own the West, the NBA.
This is the year the Mavericks beat the Lakers.
That's not me saying that, I still have a shred of sanity left. It's Mark Cuban, owner of the Mavericks, on KRLD in Dallas. Here's what he said (thanks Sports Radio Interviews), when he was asked if Dallas could beat Los Angeles:
"Hell yes. That's it. Hell yes. We've got the size now. We've got the depth. We've got a lot more depth than the Lakers. It's not even close there…

 "I'm excited about it. We're going to continue our streak [nine straight 50 win seasons]. We're going to have a great team. I think we have the depth, experience and are younger and more athletic to kind of fill some holes we had last year. We are going to be better… This is a really, really special opportunity for us. We're going to have the deepest team in the NBA by far. I think our second unit, J.J. (Barea), Jet (Rodigue Beaubois) and probably Shawn Marion or Caron Butler switching back and forth with the second unit with rookie Dominique Jones playing the three, Tyson Chandler playing the four and Brendan (Haywood) or Ian (Mahini) playing the five. Our second unit could beat a lot of first units. We're going to have so much depth that it's really going to give us an advantage this year. All our guys are coming in with one focus only and that's to win a championship. That's the goal. "
I get what Cuban is saying. Dirk Nowtizki kind of is a wash with Pau Gasol. Jason Kidd, even at this point in his career, is better than Derek Fisher/Steve Blake. Shawn Marion is as good or better than Ron Artest. Brendan Haywood can hang right there with Andrew Bynum. Caron Butler can be Lamar Odom…
That's everyone right? Can't think of any other matchups that really tilt things toward the Lakers.