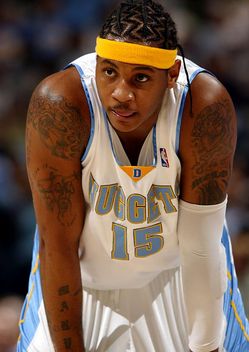 It's really a two-step process for the Nuggets to move on and trade Carmelo Anthony. And while most of us are having fun playing around with step two, the Nuggets still seem to be on step one.
Step one: Accept that he is going to leave and that you have to trade him. Step two: Find a deal that works.
Nuggets officials still seem to be dealing with step one — they think they have a shot to convince Anthony to stay. To sign the three-year, $65 million deal that is out on the table. Look at what coach George Karl told the Denver Post:
"To me, my job is to, anytime I talk to Melo . . . it's to convince him that we won 53 games last year and I think we're very capable of being a lot better than we were last year," Karl told reporters. "Some of the bombs that hit our team injury-wise and my situation, I think we kind of need to stay together, in my opinion. It's pretty easy: Stay together and figure it out. Right now, I don't think Melo is going to be calling me for advice. Fortunately, it's not my job to probably call him to talk about that situation. My job is to talk about basketball."
How's that going? Here's what CBSSports.com's Ken Berger got from people "involved in the process" and clearly close to Anthony.
"There's no sign of reconsideration on Carmelo's part, despite what [Denver] has publicly said," said one of the people involved in the process.
Denver officials may or may not be coming around to accepting that they will lose him — officially they are still turning away trade calls — but this topic will be a massive distraction during training camp and into the season if Denver doesn't move him. It is a question that will come up in every city, in seemingly every story about the team.
But Berger also shows how hard it is to put together a fair deal for Anthony.
He talks about a complex three-team idea involving New Jersey and Philadelphia that would ultimately send Anthony to the Nets, No. 3 pick Derrick Favors to Philadelphia and Andre Iguodala to Denver. But there are a lot of other moving parts to make the salaries work, and Rod Thorn in Philadelphia may realize he is trading Iguodala ad getting back a project in Favors. Anthony likely would sign an extension with the Brooklyn-bound Nets but wherever he gets traded has to be to a team where he would sign. Nobody is just going to rent him.
Getting a deal done will be hard, but eventually Denver will come around and realize it has no choice. Unless it wants to repeat the fun in Cleveland. Or Toronto, where new Nuggets GM Masai Ujiri came from — doubt he wants to see that movie twice.