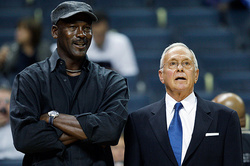 Today, we salute the Charlotte Bobcats.
No, not for any front-office wizardry (in fact, far from it), but rather for the fact that the franchise, somehow, is coming off its first-ever playoff berth.
Because today we also celebrate all that has gone wrong with the franchise.
It is the day we learned that Adam Morrison had a recent tryout with the Boston Celtics (we're assuming Antoine Walker was unavailable).
And it is the first day of the two-day waiver period for just-released center Erick Dampier.
So how do the two tie together?
By how they have tied the hands of a franchise that required Larry Brown's divine intervention for that playoff berth last season.
By now, the Morrison misstep has been well-chronicled, how Michael Jordan squandered the No. 3 overall selection on the one-dimensional, defensively lacking forward in the 2006 NBA Draft.
Ahead of Brandon Roy, Rudy Gay and even Thabo Sefolosha.
But Dampier also speaks to a failure just as pronounced.
No, there was nothing unsound with the selection of Emeka Okafor with the No. 2 overall pick in the 2004 draft. It's not as if the Bobcats had any input to what, at the time, was the debate over whether Dwight Howard should go No. 1. And it's not as if Charlotte missed out on all that much, with the best of the lottery lot that year including Ben Gordon, Devin Harris, Luol Deng and Andre Iguodala. Big men always go higher.
But it's how the Bobcats then flipped Okafor's contract last summer to New Orleans for the shorter contract of Tyson Chandler. And how Jordan then flipped that contract this summer to Dallas for Dampier's non-guaranteed and just-dumped contract.
The sum total of a pair of top-three selections over a two-year span?
An argument could be made that Stephen Jackson  resulted, in an obtuse way, from the dumping of Morrison. But that was more about matching salaries (for Vladimir Radmanovic who was acquired for Morrison from the Lakers).
Closer to reality is that absolutely nothing was gained, two prime pieces of draft real estate squandered.
Oh, Larry Brown may yet get the Bobcats back to the postseason, the Bobcats stifling in their halfcourt defense.
Actually, another playoff berth would do more than save face.
 
It also might save future embarrassment, considering how little the lottery has produced for Charlotte, where No. 2 plus No. 3 have equaled zero.
(And that's not even getting into Raymond Felton going at No. 5 in 2005 and then leaving this past offseason as a free agent to New York for nothing in return. Another story best left for another day, when the likes of D.J. Augustin and Gerald Henderson also can be measured.)
Ira Winderman writes regularly for NBCSports.com and covers the Heat and the NBA for the South Florida Sun-Sentinel. You can follow him on Twitter at http://twitter.com/IraHeatBeat.