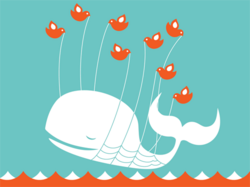 Some lucky fan is going to be able to watch live and in person as David Lee does some television promotion bits. Thrilling stuff, that is.
The Golden State Warriors are looking for some social media studs to be the fans eyes and ears at media day Sept. 27. To tell the public what is going on at a staged event filled with media there whose job it is to tell the public what went on at the staged event.
Still, it would be fun and could be done well. The Huffington Post has the details on what they are calling "Tweedia Day" (via Trey Kerby at Ball Don't Lie):
The forward-thinking franchise put out a call today for active social media participants — bloggers, vloggers, microbloggers, podcasters, Facebook users, web writers, and online photo journalists — to submit an application on the Warriors' website "for a chance to represent their fans, followers and readers at Media Day, which has traditionally been an event closed to the general public."

Consistent with the standards of its referenced namesake, the Tweedia Day application asks fans to state why they should be included in the Warriors 2010 Media Day in 140 characters or less, with no avail of Twitlonger. According to the release, selected social journalists will "attend Warriors Media Day on Monday, September 27, and take part in the festivities right alongside traditional media members, while covering the events on their new and social media platform(s) of choice."
If they can find some tech savvy people in the Bay Area, they should be set.