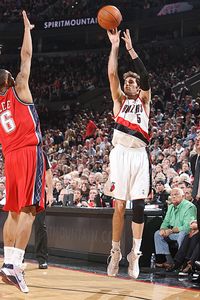 Rudy Fernandez played well for Spain at the World Championships — 15.5 points per game on 62 percent shooting, 42 percent shooting from three — but it was still disappointing. Spain went in a co-favorite and left without any medal.
You can debate amongst yourself how much of the blame for that falls to Fernandez, how much to Ricky Rubio, how much to Pau Gasol for not being there. Fernandez is not going to join you. He has moved on.
But that doesn't mean he's talking about Portland — just getting back to work. As he blogged at his site Wednesday.
After an irregular World Championship in which we couldn't reach our goal, winning a medal, and were we weren't able to play at our level, now we have to look ahead and think about the future. The project of spanish basketball continues and now we have to think about getting back to play at our best level in the European championships in 2011 in Lithuania with the 2012 London Olympics on the horizon. Personally, I've tried to focus on the tournament and not think much about my professional situation, and I've tried to fight till the end.

Now, it's time to rest a little before going back to work
Where will he get back to work is the question.
The Fernandez trade situation is still fluid, with talks going on just no action yet, according to a tweet from Alan Hahn of Newsday. The Knicks are still interested. Portland is likely hesitant to send Fernandez to a place he wants to be like NY after his public trade demands. If they could trade him to Siberia, they would.
Still, it makes sense for the Blazers to send him somewhere before the season starts. No reason to bring all that to camp for a team looking to put last season behind them.