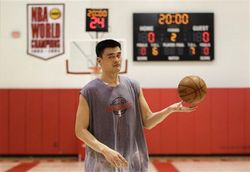 Rockets GM Daryl Morey wasn't kidding when he suggested he wanted to keep Yao Ming's minutes down this season.
Well, it wasn't a suggestion either, as he told Fran Blinebury at NBA.com.
"It's going to be hard for everybody," Morey said. "We have talked in the past about trying to keep Yao's minutes down over the course of the regular season, but this time it's not a suggestion or a wish. It's mandatory. There will be a minutes cap. We will have to pull him out. It is not an option.

"Yao being Yao, he's not going to want to come out. We all know that. But this is the way it's going to be. When he's in a game and he hits his minutes limit, it's going to be like a baseball pitcher on a pitch count. It won't be a judgment call anywhere. He comes out and we go on."
Look for the Rockets to take other steps as well, such as Yao not playing in the second half of back-to-backs and him having some practices off.
Yao missed all of last season following foot surgery where pins were put in to hold the bone in place.  They need him back — with him they are a trendy dark horse pick to knock the Lakers off their perch in the West. Without him they will struggle to make the playoffs. So better to err on the side of caution, don't you think?