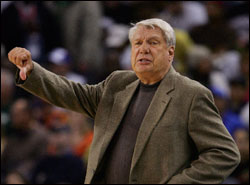 If one thing would endear the new Warriors owner Joe Lacob to Bay Area fans it would be to remove Don Nelson the day he gets control of the franchise.
That may be what happens, according to Tim Kawakami of the San Jose Mercury News.
The signals are strong: If the timing is right and the discussions progress, my belief is that Joe Lacob is planning to move on from Don Nelson and probably install Keith Smart as the Warriors' interim coach for the coming season.

Nothing is concrete. The rush of training camp-due to start in late-September (earlier than I thought)-complicates everything.
He points to things like the signing of Lou Amundson — not a Don Nelson type player — as one of the signs that things are about to change.
Owners are expected to vote on and approve the Warriors sale to Lacob in October. There are two questions about getting rid of Nelson.
First, is it wise to do that after training camp has started? A shake up of head coach, and with it system, in the middle of training camp is not good for a team looking to come out of the gate fast.
The other is money. Nelson is owed $6 million this season whether he coaches or sits in his home in Maui. That's a lot of money to pay someone to go away.
But those would be the prices of buying good will and giving hope to the Golden State fan base. They want change, they want a team that is run well, and they want proof that Lacob and team can do it. Firing Nelson may have short-term ramifications, but it would show that things are changing for the better long term.