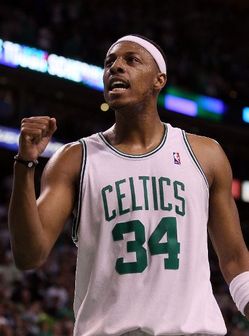 Last season: 50-32 during the regular season, but 17-17 down the stretch as key players got rest and healthy for the playoffs. Then they played like the 2008 Celtics in the postseason and advanced all the way to Game 7 of the NBA Finals before falling.
Head Coach: Doc Rivers, back for what may well be his final season. That may come up in motivational speeches by team members.
Key Departures: Tony Allen will be missed; Rasheed Wallace will only be missed by sports talk radio hosts on a slow day looking to piss off Celtics faithful by bringing him up.
Key Additions: Jermaine O'Neal and Shaquille O'Neal, who will bring some scoring to the Celtics front line that Kendrick Perkins could not. They will not bring his defense, however. Also added were DeLonte West and Von Wafer, the former of which will make good contributions.
We also need to note under additions that they kept the core of this team together. Boston could have let Paul Pierce and Ray Allen go and started to rebuild this team around Rajon Rondo, but they brought everybody back for a couple years and a couple more runs at it. Then the rebuilding will start.
Best case scenario: An NBA Championship. They were within one game of it last year and may have pulled it off if Kendrick Perkins had been healthy for Game 7 in Los Angeles. (But the Lakers dealt with injuries, too, so it's a slippery slope.) This team is poised to make two more runs at a title, then the rebuilding will start in Boston.
For that to happen: Two key things will have to take place. First, this team has to stay healthy. That is true of the contenders in Miami and Los Angeles and everywhere else, too, but it is particularly key for a Celtics squad just slightly younger than Dick Bavetta.
The health thing starts with Kevin Garnett coming back healthy enough to be 90 percent of his 2008 self. He is still the heart and soul of this team, he is the guy who makes the defense work, who can get some easy buckets in the halfcourt. Along with that, Kendrick Perkins needs to come back and by the playoffs be close to the defensive force that he was before Game 6 of the finals last season. And, of course, no other key players can go down with big injuries.
The other key thing is that the Celtics defense has to remain as good as any in the league. It is going to have to do that with Lawrence Frank in charge of it, not Tom Thibodeau. It is going to have to be that way with Shaquille O'Neal and his defensive freelancing, his terrible pick-and-roll defense, getting key minutes. It's going to have to be that good with Jermaine O'Neal as the starting center. It's going to need that healthy Garnett we talked about before.
If the defense slips, so does Boston. It's that simple.
More likely the Celtics will: Be right in there for an NBA title run. Just like in the paragraphs above. This team is one of your handful that is a legitimate title contender. There are questions to be answered, things that need to go their way, but they are in the mix. That is all you can ask to start the season.
I expect Rajon Rondo to continue is upward climb, to become more of the key cog of this team on offense.
Boston is going to need to work on integrating those additions. Particularly the two O'Neals along the front line — those two will bring more offense out of the five spot than the Celtics have seen in the Big 3 era. But neither of them are defensively focused. DeLonte West again is a good fit but will need to blend in. When Perkins comes back the front line rotations will need to be figured out and stabilized.
Still this is the core of a team that went to Game 7 of the NBA finals last season and won a title a couple years ago. This team knows how to answer the questions that are out there. If they can hold up physically, they will be able to answer them. They will be contenders.
There will come a time this season when the Celtics play .500 ball or below for 20 games or so. And we will all put our short memories on display. We will say they don't look like contenders and this is different than last season, different than 2008. And Rivers will ignore everyone and work on getting guys rested and healthy for the playoffs. He knows if they are, they will be right there, knocking on the door of another banner for the crowded rafters.
Prediction: 50 wins. Same as last year. Certainly, the Celtics could easily win more, but like last season the focus by the Celtics will be less on the regular season and more on being healthy and rested come the playoffs. The depth up front could give them more wins, but the East is deeper too so there will be fewer nights when they win by just walking on the court. I think it all balances itself out.
Basically the same team as last year. One capable of winning a title if things go right.