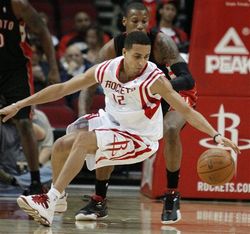 As preseason predictions start to creep out, the Houston Rockets are becoming a popular dark horse pick in the West. The Lakers are the Lakers, but if anyone has a shot at knocking them off, it may well be Houston if Yao Ming can stay healthy.
In part that prediction is based on Kevin Martin becoming an elite sharpshooter that feeds of Yao inside and the slashing of point guard Aaron Brooks. If things go according to plan, Martin should have to create fewer of his own shots and have a lot of open looks.
And he's ready to knock them down, he told the Houston Chronicle.
"I'll be back to my pre-wrist-injury form. I'm feeling better, more like I was before the injury. That was the main goal, to get back there. My goal when I got traded was to fit in with a great group of guys, not try to be that person that came in here thinking he was going to take every shot. That fitting-in phase is definitely over. Now I'm ready to get back to being myself.

"Nobody has seen the real me yet. I'm ready to take off."
Martin has spent the summer in the gym with friend-of-this-blog David Thorpe, the head honcho at the Pro Training Center in Florida. He said Martin is ready.
"He worked hard, but the biggest thing is he is totally healthy and back to being a really, really athletic player," Thorpe said. "He looked like a 21-year-old the way he was running and jumping and sprinting. The results were phenomenal. He never shot like this. He never had a better summer shooting the ball than this summer. I'm more hopeful than I ever have been before about him shooting the 3.
Martin also had one of the better lines of the summer. The rumors persist that if Denver gets serious about moving Carmelo Anthony, the Rockets will be in and Martin will be part of the trade bait.
Martin is willing to bargain with GM Daryl Morey.
"If Houston wants Carmelo that bad," Martin said, "on Halloween, if I'm still here, I'll dress up as Carmelo."