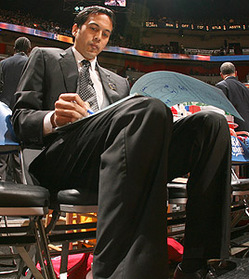 Every team seems to find a way to play the "us against the world" card. Win a title and somehow the next year nobody respects you, nobody thinks you can do it again and that is the motivation.
So it will be with the Miami Heat — they come into a season one of the favorites to win it all, with a suddenly massive new fan base, yet it will be them against the world.
Sorry, not will be. Already is. Heat coach Erik Spoelstra went with the "people will try to tear us apart" bit in a recent Q&A with SLAM magazine.
We'll certainly have a lot of peripheral distractions and in some instances, opponents. A lot of people will be looking for an angle to separate us and how we deal with those circumstances, how we develop a concept of team and how we grow together will be critical. I think, secondly, one of the challenges we'll face is how we handle adversity and you can't really predict or prepare for it, but it's inevitable during the course of an NBA season that you will run into some adverse moments. I always felt that those are the moments that will either break you as a team or where you really take a forward step and go to another level. When things aren't going well, people aren't necessarily getting along and things are not working the way you want them to and that's when you come together and collectively come up with a solution that really helps you improve and go to the next level.
He's smart, and he's on the right track. How this team bonds, how fast and well it coalesces will make a difference. He needs them to focus on playing together, and he spends a lot of the interview talking about that process. About getting them all on the same page.
He's in luck. If one of LeBron's motivations for coming to South Beach was to recreate his favorite times — when he and his high school friends ruled on the court and ran together off it — the biggest alpha dog in the room will be all about the chemistry. He was in Cleveland. If he is in Miami, where the talent is better, the team can go farther.
But whatever. It's the Heat against the world.