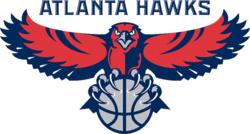 The Hawks clearly like Pape Sy. Maybe we will all grow to like him and his game, too. But first we need to see it.
The biggest surprise in the 2010 NBA draft (second round) as become the biggest surprise signing — the Hawks have reached a deal with Sy, the team announced.
Here is what we know about Sy: He is 6'7″ and played point guard for Le Harve, a team near the bottom of the French league. There he played just 14 minutes a night and took just three shots per game. And he is 22 years old, which is a bit old for a prospect from Europe to just be drafted.
Sy was a guy on nobody's radar yet the Hawks have signed him. He may be a big time athlete who has the potential to play on the wing in the NBA, but the jump from the lower levels of the French League to the NBA are pretty extreme. So we shall see.
As you would expect, the Hawks rave about him.
"Our European scout (Loize Milosavljevic) did a great job in recommending Pape to us and once he participated in our pre-draft workouts, our scouts and coaches were very impressed with his abilities," said [Hawks GM Rick] Sund.  "Although he was hampered by an Achilles injury during summer league workouts, we were encouraged with his ability, athleticism and competitiveness."

"He is a talented 6-7 backcourt player who can play multiple positions," said Assistant General Manager Dave Pendergraft, who worked throughout the process to get Sy here in time for training camp.  "Sy's an interesting prospect who is determined to play in the NBA."