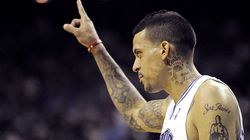 Sacramento prosecutors have asked for a one-month delay before having to file charges against Barnes following a domestic violence arrest.
The new court date is Oct. 18, according to News 10 in Sacramento, which falls during Lakers training camp.
The delay request was "not unusual. We do it all the time," Deputy Sacramento County District Attorney Paul Durenberger said.

However, Barnes' attorney Tom Johnson said the delay was absolutely "not typical. It's a little atypical, but we applaud the decision to do some more investigation and to look thoughtfully and carefully at this decision. We feel fortunate that they've come to the conclusion at this point that there isn't probable cause to charge (Barnes)."
The DA is right on this count. I will tell you from my days long ago as a court reporter that delays and requests for delays by attorneys may be the most common thing in our judicial system. That and bad egg salad sandwiches in courthouse cafeterias.
The Lakers open camp on Sept. 28 and have preseason games Oct. 16, 17 and 19, all in Southern California.
Barnes was arrested last week on charges of domestic violence after police came out to his Sacramento home following a 911 call that was cut short. Police found both Barnes and his fiancé Gloria Govan injured, determined Barnes was the aggressor and arrested him. Both Barnes that night and Govan the next day said there was nothing to this.