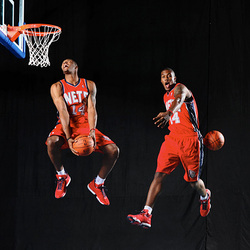 We all knew Derrick Favors was raw. During the draft it was almost like the hyphenated end of his last name, Favors-Raw. Athletic as all get out, but needing polish. This guy was a bet on the come, not an instant big payoff guy.
But apparently he is pleasing the Nets with his progress so far. Nets GM Billy King talked with Al Iannazzone of the Bergin Record, which led to a series of tweets about Favors.
Nets GM Billy King on D. Favors: "In talking with the coaches, they said from summer league to now the progression has been incredible… He's hitting the jump shot, dunking on people, finishing… I think the summer and all the work is starting to pay off and starting to click with him."
With Troy Murphy in for a year, the Nets have the luxury of brining Favors along slowly. Favors can come off the bench and backup Murphy as well as center Brook Lopez. Favors can use his athleticism to block shots, board and score now and again. And refine his game.
Favors got mentioned along with some big names after his measurements came in at the Draft Combine — Dwight Howard, Chris Bosh, Nene. But having the same measurements and the same game are different things.
At Georgia Tech Favors created most of his offense with his superior athleticism, but that is not going to work nearly as well not. There is going to need to be a variety of moves, and some polish. And that tames time. Despite whatever progress we see now.
Favors is a microcosm o the Nets in a way — you see what could be there, but you realize it is a couple years away. And when it does get here you don't know how good it will really be. Hopes are high, because that's where it should be before the season.