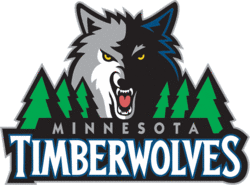 You know how if you have to explain a joke you've already screwed up the execution of it…
Meet the Minnesota Timberwolves. On Monday they took over the back page of the Star Tribune with a full-page letter to fans, (you can see the text of it here).
The letter is clever in concept in that the goal was to be honest with fans about the team, one we can all agree is in a rebuilding phase (where it is in that phase is up for debate). The goal is to be positive — they are trying to sell tickets after all — but also honest, because the fans are not stupid.
We now have more shooting, athleticism and depth at every position, which will make us a better team this season. So will we challenge for the NBA championship this year?

No likely.

Ouch. This honesty thing is a bit painful. But the reality is, we still need that one dominant player.
Um, you need more than that one dominant player, but since that would have to be the first thing on the list we will let that go.
The letter is long and rambles and says, "hey we're not going to be all that good but we will be fun." However it uses a lot more words to do it. They say that they know there are naysayers out there, but that the team has turned a corner. It makes a joke about Ricky Rubio — "Oh, wait. We forgot to talk about Rubio. Next time." — that falls flat.
There are naysayers because while you lay out the rebuilding plan, like a bad joke you really need to explain the execution of it so it makes sense. There are countless questions about this team — why spend that much money on Darko, why can Kevin Love play so well with USA Basketball at the World Championships but you guys can't get him enough key minutes, why if you wanted to run did you go out and get a triangle coach? (Yes, the fast break is one of the key principles of Tex Winter's philosophy, but you look for the break chance then set up the offense, the Timberwolves did the first part of that last year but not the second part. Mostly because personnel poorly fit the triangle system.)
But like the letter said, it's time to play. Then we can see how this building plan is going. Because results are the ultimate in honesty.