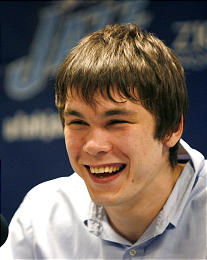 The Utah Jazz have the right and used it — they offered Kyrylo Fesenko a qualifying offer, a $1.1 million deal for one year.
Fesenko hasn't signed it, and nothing is imminent according to the Salt Lake Tribune.
Other teams may have some interest in Fesenko, but he's not going to get much more than the qualifying offer. So, basically, any offer that he would get the Jazz would just match. Which means no team has made any offers.
The only offer Fesenko has is the Jazz offer. He is trying to wait out a better one, but at some point close to camp he is going to end up signing it and playing this season for the Jazz. Then, after the lockout he can decide what to do next year. (Or, he can jump to Europe where there likely would be interest in him.)