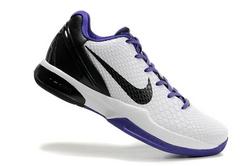 Not everyone loves Kobe Bryant's "Black Mamba" nickname. Which makes sense in that one should not be able to nickname themselves. Except it's Kobe, and he can do whatever he wants. So Black Mamba it is.
And Nike is down with it.
The photo you see at right, via nikeblog.com, is of the new Nike Zoom Kobe VI (found via the brilliant Kevin Ding of the Orange County Register). Notice the snakeskin like look. The Black Mamba shoe.
The best part about Kobe? His fans will think this is the best idea ever, his haters will say this is clearly the worst idea ever and a sign of his ego. And the two will fight it out in message boards everywhere, with questions of Durant and LeBron and Jordan coming it. Gosh, can't wait to see all that rehashed. Again.