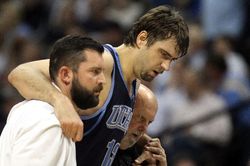 It was expected that Mehmet Okur would miss the start of the season, but it now looks like the Jazz will need to get by without him for a couple months.
Salt Lake Tribune Jazz writer Brian Smith said in a tweet that he is being told it looks like a December or January timeframe. Which means the Jazz may have to go the first half of the season without their floor-spacing center.
Okur ruptured his Achilles tendon in the Jazz's first playoff game and had surgery on April 17. So the timeframe being discussed sounds about right. You cannot rush back from this. Remember that (as my man Steve at Rotoworld noted)  this is the injury that set (and continues to set) Elton Brand back, and while Okur's game was never as explosive as Brand's he needs to really do this right.
Utah has Al Jefferson and Paul Millsap in the short term, they will be fine. When the Jazz need Okur is the playoffs, when a floor spacing big man who can pull opposing bigs away from protecting the rim is crucial. The team can survive without him before that.