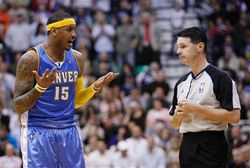 Seventy-two years of experience has left the NBA refereeing ranks. To be replaced by five younger refs called up from the D-League.
That can be good or bad, depending on your worldview of referees. In reality, it probably makes little different.
The New York Times has the details. Joe DeRosa, Joe Forte, Sean Corbin and Phil Robinson are gone.
The vacancies will be filled by five Development League referees, one of whom will stand out for his size if nothing else.
Kevin Cutler, who is 6 feet 8 inches, will be one of the two tallest officials in N.B.A. history. (Michael Henderson, who was also 6-8, worked for the league from 2001 to 2005.)

Cutler, 42, became a curiosity in N.B.A. arenas last season when he refereed a half dozen games as part of an initiative aimed at preparing top prospects. Four others who participated in that program — Brent Barnaky, Nick Buchert, Josh Tiven and James Williams — have also been promoted.
Lest you think it's going to be all young whippersnappers who can keep up with the speed of the game, Dick Bavetta will be back. He'll turn 71 this season.