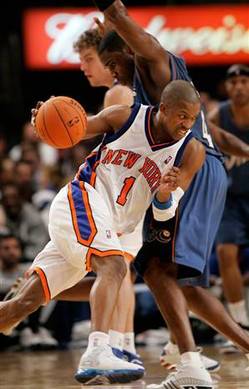 China already has all our manufacturing and Stephon Marbury. Then they might get Allen Iverson.
And now maybe Steve Francis.
That's what Stevie Franchise himself told Xinhua News (Via Trey Kerby at Ball Don't Lie):
The 33-year-old, once known as "Franchise" as the cornerstone of the Rockets', said he cannot afford to sit on the bench while he can play.

He has recovered from the injuries that had plagued the late years of his basketball career and can return to the basketball court, he said.

"I will play in China if the money is good," he said. "Coaching is also an option."
Man, if this was a decade ago, China would have something.
Francis and his dunks and passing will drive some Chinese coach nuts but the fans will love him. And in the end, if basketball is about entertaining, you're not going to find a better entertainer than Francis. He should pick up a few more paychecks and have fun.