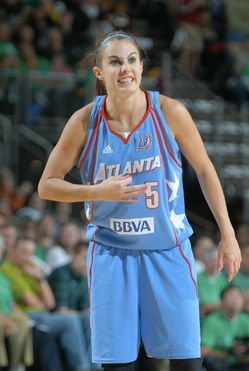 When you flipped away from NFL Sunday to watch some of the WNBA finals… well, if you had (and you should have to watch Sue Bird drain a free throw line jumper with 2.6 seconds left to give Seattle the win), you would have noticed something:
Both teams had the logo for BBVA on their jerseys.
Which would have led you to Google BBVA.
The answer is they are a Spanish bank making inroads in the United States, and they have signed a new $100 million marketing deal with the NBA and its partners, the WNBA and D-League. The NBA has confirmed the story, but the New York Times has the money numbers.
BBVA likes to use sports as a marketing tool, it is the title sponsor of La Liga, Spain's premier soccer division (Real Madrid, FC Barcelona, etc.). This gives the NBA a chance to expand its name into Spain, which is the best reason for David Stern to push for this. Well, that and the $100 million.
BBVA — using the name BBVA Compass here in the United States — has purchased banks and started to make its presence felt in Texas and through the Southern United States. It now has more than 700 branches here with continuing plans for expansion. However, it has very little presence through most of the nation, including the Northeast that is a big part of the NBA's core. BBVA also is one of the largest banks in Mexico.
And it wants to grow its name recognition here in the States, which is where these deals come in. You'll see plenty of BBVA on national game broadcasts this season. If you're in Spain to watch the Lakers take on FC Barcelona in a preseason friendly next month then: 1) You're lucky; 2) you'll see a whole lot of BBVA tie ins there.
You'll be seeing a lot of BBVA, now you know why.