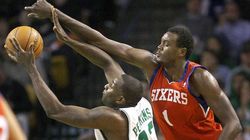 Philadelphia didn't expect scoring out of Samuel Dalembert, he was the defensive stopper. Last season he got an average of 6.4 shots per game and that led to 8.1 points. Not much, but those numbers were up from the year before.
But Dalembert can score, and he wants the rock, as he told RDS.ca (as translated by Hoops Notes):
"In Philadelphia, I was asked to focus more on defense. But with the Kings, they expect me to play a more offensive role. I'll be able to accomplish many more things with my new team," he said in his adopted hometown Saturday as part of the NBA's promotional tour in Canada.
Dalembert was a very effective scorer as the roll man on the pick-and-roll, shooting 65.5 percent and scoring a very good 1.21 points per possession in that roll role, according to  Synergy Sports. He and Jrue Holiday had a chemistry there, with defenses paying a lot of attention to Holiday and Dalembert being able to slip the pick or just have room on the roll. And get him the ball inside and he can finish — he shot 67 percent at the rim last season.
Substitute Tyreke Evans in for Holliday and the up-and-coming Kings may have another player they can really count on for some more points. Certainly more than Philadelphia counted on him.