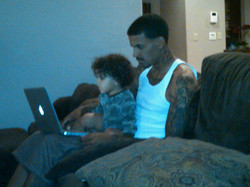 Monday Matt Barnes will be in a Sacramento court, facing changes in a domestic violence case.
Sunday night Barnes tweeted the photo you see here, with his sons. The caption read "Me & Isaiah learning the new triangle offense."
The timing of the photos is not a coincidence.
Whether they accurately reflect Barnes' family life, that's up to you. Police arrested the new Laker after coming out to his home last Wednesday night. Police found both Barnes and his fiancé Gloria Govan injured, determined Barnes was the aggressor and arrested him. In California, police are nearly required to make an arrest in a case where there was clearly violence.
Both Barnes that night and Govan the next day said there was nothing to this. We will see Monday what the District Attorney thinks. That opinion determines the next steps for everyone.