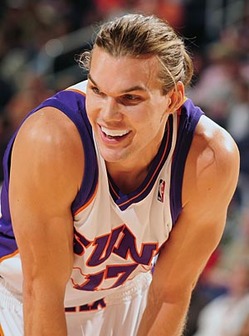 They may not have a classic big man, but the Golden State Warriors have an athletic and interesting front line.
One that just got more interesting with news that Lou Amundson has reached a deal with the Warriors, a two year deal worth just less than $5 million, with the second year a player option according to tweets from Marc Stein of ESPN.
New Orleans had been considered the frontrunners for Amundson, but they had luxury tax issues and they could not offer more than $1.9 million. Golden State offered more — and even at what they paid this is a great deal.
For that money, the Warriors get a hustle guy who can crash the boards, shoot a little and will bring it hard every night. He was a key part of the bench in Phoenix for just that reason.
Golden State now has an interesting front line. They are expected to start David Lee and Ronny Turiaf, but off the bench they bring Andris Biedrins, Dan Gadzuric and now Amundson. That is not your traditional front line, but in the Don Nelson system — and right now we will assume it will be the Don Nelson system but that could change when ownership changes in the coming weeks — those four could make an interesting fit.