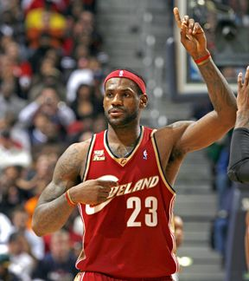 Oh, LeBron. We know you're not just a big walking ego. We get why you went to Miami and that you took less money to do it. We think the trio of you in Miami is going to work out. We're not on board with the "hate all things LeBron" trend that seems to have swept parts of the Internet.
So please stop doing poorly thought out things that have us writing these types of stories.
LeBron James was not on the sidelines of the Ohio State thrashing of Miami Saturday, despite the fact he was expected. Why? Our sister blog at NBC Out of Bounds has the story, via the Cleveland Leader.
James reportedly asked Ohio State University's Police Department for a full escort for his arrival at the Buckeyes vs. Hurricanes game on Saturday, but was rather quickly denied.

A source says that at best he'll get one police officer to escort him, and that "he made his decision."
So LeBron went back to St. Vincent-St. Mary football game instead. Which is kind of cool. But dude, if you don't want to come off as a big walking ego, stop doing things that make you look like it. Please.