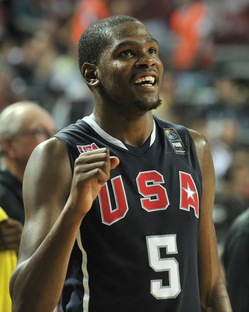 Kevin Durant has yet to disappoint. He had a fantastic rookie year, has grown in each of his three seasons in the NBA, and emerged as one of the top players in the game. KD's also riding a hell of a PR typhoon after the tectonic shift known as The Decision changed, well, everything. LeBron James' hubris has cut him down from favored status, and in his place now stands Durant, the do-no-wrong king of the upstart Thunder and most recently, medaled national hero.
Not that KD has surpassed LeBron on the court. Whether that's even a possibility is still to be determined, but at present, no NBAer's star is more likely to supernova. Durant is that good, and right now he's sitting on top of the basketball universe.
Unfortunately, that leaves Durant with an awfully long way to fall.
Even if KD's game is only getting better and better, it's possible that this is the best it gets for Durant's image. He'll win some, he'll lose some. He'll fall short of some expectations and shatter others. Yet the longer Durant stays in the NBA, the more time the now-adoring public will have to pick him apart. Even the great ones have their flaws, and in case those flaws aren't flammable enough on their own, the sports sphere is never short on gasoline.
Durant is the type of talent and person that should be enjoyed. He deserves to be praised, and it's not surprising that NBA fans have latched on to him as they have. He's also exactly what he's pegged as being: just a normal guy.
KD isn't a megalomaniac, but he's also mortal, even if his game hints otherwise. The limits and quirks that make Durant so endearing are the same ones that will eventually tarnish him, just as they did with LeBron, and for that matter, with just about every other prominent star that ever laced 'em up. We love NBA players for their flaws, even if with Durant, we haven't quite realized it yet.
His range is unbelievable, but sometimes he leans too heavily on his jumper as a result. He's confident in his own abilities, but sometimes tries to do just a bit too much. He's neck-deep in the game he loves, but maybe that makes him just a bit detached.
Can KD drop 40 with a flick of his wrist? Surely. Is his work ethic so intense that he refuses a proper vacation? Certainly. That doesn't mean we haven't been down this road before, with other remarkable men and remarkable athletes. The lesson in all of this isn't that Durant is spectacularly flawed, even if he ends up being so. It's not even that the ever-present disconnect between fan and athlete (or media and athlete, for that matter) precludes us from ever really knowing players like Durant.
The takeaway is that the fall is a part of the game (not the game, but the game), and the flaws spotlighted in the process are typically par for the professional athlete course — bloated egos, the obsessive need to control, etc. However, when the beams dim a bit and the glare disappears, we find comfort in those same traits under gentler light. If I can shift metaphors from the stage to the screen: those flaws that endure, through the ups and the downs, put the stars of the NBA in vivid technicolor.
Durant is brilliant, but only because his flaws make him so. Perfection is boring. Limits are everything, even if they exist solely to be bent and broken, set and reset.