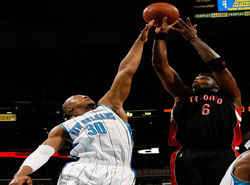 Jermaine O'Neal had options this summer — he was a skilled big man who would be playing for a very affordable contract. Two contenders in the East wanted him, Miami and Boston.
O'Neal has been near the top looking down on the rest of the league before, with Indiana in the pre-brawl years. It was a long fall from there. He's learned a lot, much of it the hard way. He gets now how sacrifice is needed for winning.
So when it came to choosing between Miami and Boston, O'Neal went with where they have proven they will sacrifice, not just where people have talked about it, O'Neal told the Boston Globe.
"There's no ego [in Boston], and it's hard to find no egos," O'Neal said. "As good as individual players are, especially when I look at a situation like Miami, none of those guys had to really deal with sacrificing.

"That's what made Boston more intriguing for me and a situation I thought would be better for me. These guys [in Miami] are all really good individual guys that are used to shooting 20 times a night just last year. These are all young guys.

"So no matter what you say or how you say it, they're going to still want the credit. But I know the Boston Celtics aren't about that."


The book is still out on Miami — they are saying all the right things, these are all guys who may be young but are wise in the game beyond their years. LeBron, Wade and Bosh may be ready to make the necessary sacrifices. But they have to prove it.
Boston has proved it. It's why they have a ring and were on the verge of another last season. O'Neal felt more comfortable with that.
And because he did, Boston is even closer to a title.