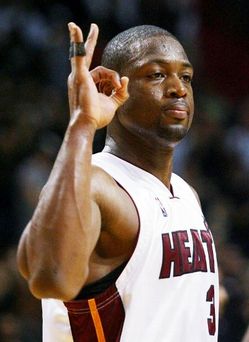 Ah, we are happily part of this Internet media age, when we can pass along a story on Dwyane Wade responding to comments Pat Riley made to chastise comments on Stan Van Gundy and Charles Barkley….
Wade talked with friend/contributor/bon vivant of this blog Ira Winderman, in his role as the Heat and NBA writer for South Florida Sun Sentinel. He asked Wade if he has felt less venom than has been directed at LeBron James.
Well yeah, of course. I understand the whole dynamics of LeBron's situation and how it looks to people. I couldn't fathom to be in his position and to decide what he had to decide and go through. But at the same time, I had a decision to make as well. Of course my decision was Miami first, but I had to open it up to other teams as well. So yeah, I haven't got hit as much. But I've been up against my fair share anyway over the course of me being in the NBA, on- and off-court things. So I'm not looking for anything new to come my way.
And by the way, Wade is good with the idea of running some point for this team
I played plenty of point guard in my day. And LeBron as well. I'm sure we will. I'm sure Mike Miller will. Of course Mario Chalmers is our starting point guard and then we have Carlos Arroyo, but we will be guys who will handle the ball a lot and get us into the offense and make plays for the other guys.